I've missed you. :)
Since July, I've been performing improv and sketch comedy aboard two cruise ships with The Second City. I've had virtually no internet. Either I paid (a lot) for it on the ships, or I had short bursts of it at coffee shops in ports. But it made blogging a nearly impossible task. Instead, I tried to be present and enjoy the wild adventure that was my life, moment by moment.
I went to Alaska and helicoptered onto a 4,000-year-old glacier. I watched salmon swimming upstream, dolphins playing in the ship's wake, and bald eagles fighting. I saw whales at breakfast, stood in the rain and laughed with friends as we drove into a lightning storm, and shivered as I watched the Aurora Borealis spread green light across the sky. I fed monkeys and touched a crocodile in Costa Rica, swam through a cave to a beach created by bombs in Cabo, and felt fabulous in South Beach, Miami. And I got to perform with an incredibly talented cast and make thousands of people laugh every week.
Oh. And I also played Dungeons and Dragons. :D
Now that I'm back in LA, I'm so ready to create unforgettable memories here at home. And I'm excited about having the opportunity to blog again on a regular basis.
And to share with you things like this: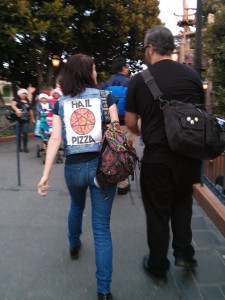 And this.