This weekend was different from some other weekends in that I went somewhere other than L.A. It was my friend Elise's birthday, and I went to San Diego to visit her and go wine tasting in Temecula. I left work on Friday night, stopped and got a delicious steak and rice teryaki wrap that was impossible to eat on the freeway and left me with handfuls of rice stuck to the crotch of my pants.
I made great time down to SD, and on night one, although I was tired and disoriented from the workweek, and getting sick (which I didn't realize and stubbornly blamed on allergies all weekend), I rallied and we went out in Pacific Beach with a few of Elise's friends. I've kind of been realizing for a while that I'm not in college anymore — i.e. going out with the sole purpose of getting as drunk as possible is no longer as appealing as it used to be — and spending an evening in PB, the collegy-est place this side of the Mississippi, helped to confirm and solidify and stamp in concrete that feeling. But it was fun nonetheless, because of the company.
Saturday after far too few hours of sleep, I got up, showered, and Elise made an amazing breakfast casserole from her grandma Jean's recipe. Folks came over, we ate breakfast and drank mimosas, then all hopped in a limo that would take us up to the wineries.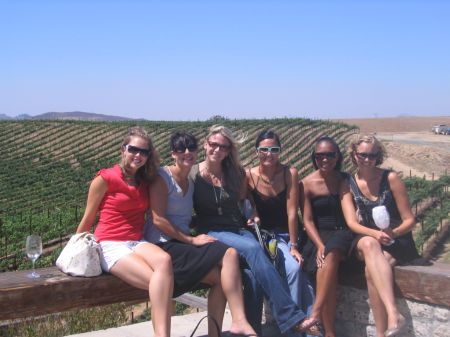 The wine tasting was delightful, and now that I can't drink much red wine, since I've determined it gives me migraines, I'm really starting to appreciate white. It's fun to know about wine and know your own taste, and at our second winery, at the height of my buzz, I turned to Elise and said, "It's fun to be an adult!" Something about when I'm with Elise, I've always felt inspired to announce with glee our stage in life. When we were in high school we'd be driving somewhere, and I'd look at her and squeal, "Elise, We're Teenagers! Ah hahahahahaha!"
Well, there's no denying, I'm an adult now, and not only does my driver's licence reflect that (I've been driving for 11 years, BTW), and although I might not always act like it, I feel like one, too. And I like it. :) (For more stats on how long I've been doing things, please refer to Appendix A).
P.S. I made a photo album of my weekend. Enjoy it here! (FYI, When viewing the pictures on Flickr, if you want to see them full size, click on "All Sizes" above the photo).
Appendix A:
I've known Elise for 13 years.
I've had my period for 14 years (ugh, 14 years of cramps! gross).
I've lived in L.A. for 3.5 years.
I've been wearing makeup for 16 years (I started wearing pink and turquoise mascara in 5th grade).
I've been working in the office rat race for almost 3.5 years (ick).
I've been out of high school for 9 years (reunion coming soon — panic)!
I've been out of college for 5 years (and still miss many, but not all, things about it).
I've been dating Jeff for over 2 sexy, snuggly years.
I've had Chocolate Chip, the bear with a squeaky tail with whom I sleep every night, for 25 years.