Soooooooo, it's back to the ol' grindstone for me. Last week Jeff & I flew to Kauai for Rachel & Dan's wedding and a week of fun (well, more like 5 days). Here's Jeff and me at the wedding reception: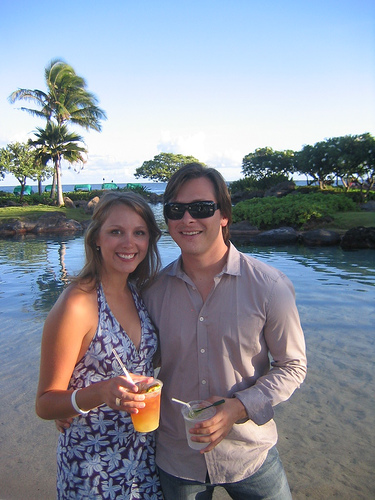 I got back to LA on Friday night, and the next day scooted off to the Morongo Hotel & Casino in deserty Cabazon, CA, for Wan's bachelorette party of sun, fun, and the requisite debauchery. Here are some highlights: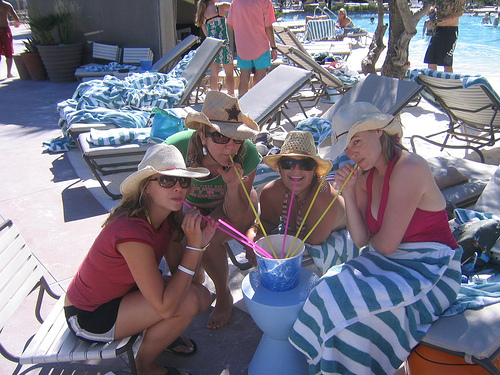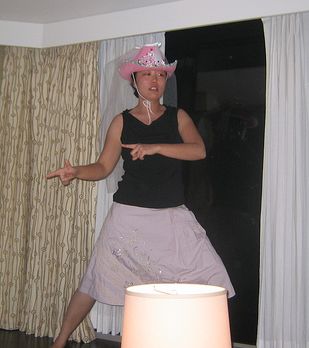 And Here's a link to the photo album. I spent Sunday and yesterday guzzling water to try and get back on good terms with my liver and uploading cajillions of photos onto Flickr. Here's a link to my Hawaii album. I'm warning you, there are tons of them — I didn't edit them, just threw them on there — and since my camera has a delay, I kept trying to take pictures and then a car would drive right into the photo. Doh! Oh, and I didn't finish captioning them because frankly I got plum wore out. I'll be adding some more captions as I please.
Enjoy! OOOOH, P.S. I was just reminded that this weekend is Labor Day Weekend! Hooray! I'll be doing something that doesn't cost money.