Wow, there is so much to cover with you, I guess I'll jump right in. Lots of big news today! Well, here goes:
One, I want to point out that in the future, time travel is apparently possible and used often. I say this because several people have emailed me from the future to approve loans I applied for! What's great is that even if it takes 32 years to approve my loan, someone from the future can just email me here in the present, so it seems like no time has passed! It's like the most efficient form of inefficency. Blows your mind, right?!!!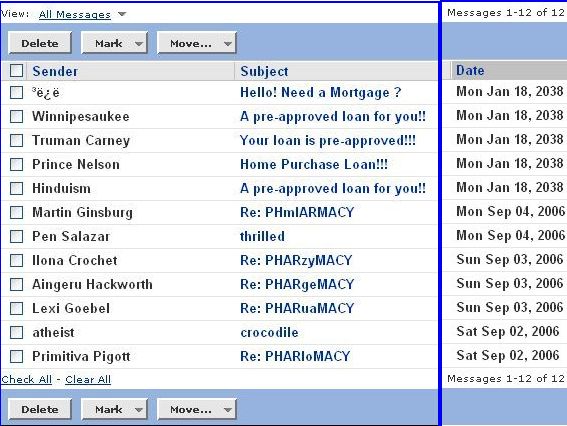 Apparently it is also really easy to get a loan in the year 2038, folks, so that's good news! Everyone from Cherokee Indians to Carneys to Princes to the religion of Hinduism to aliens with unpronouncible names have approved loans for me! Man, I can't wait for the future! I sure won't have to worry about messing with the dumb old bank to get my mortgage loan!
Another exciting tidbit: Martin Ginsburg, husband of the kick-ass Ruth Bader Ginsburg, has emailed me regarding PHmlARMACY, not to be confused with PHARziMACY, PHARseMACY, or Aingeru Hackworth's PHARgeMACY. I like Aingeru; she's a Hufflepuff. A little slow on the uptake, if you don't mind my saying so, but aren't they all, just a little? Oh, those lovable Hufflepuffs. Primitiva Pigott, on the other hand, is a Slytherin, and a nasty one at that. I don't know where she gets off emailing me. She hangs around with Millicent Bullstrode and Pansy Parkinson, and knows full well Pansy and I don't get along. Ugh, that girl's got some nerve!
In other news, Pen Salazar is thrilled, and an athiest crocodile has somehow gotten my email address.