I used to have a section of this blog called "Spam Friday," in which I made fun of all the spam I received via email and in my blog comments. But this is a new era, and starting today (and whenever else I choose to; I do not promise to do this every Friday), I am instituting "Bad Ad Friday," in which I make fun of the stupid pop-up ads that are all over the internet.
My combination favorite / least favorite ads are the ones that claim that a "mom" discovered some miracle cure or loophole in the system. Why is the fact that a mom discovered it supposed make it so much more appealing? Like Betty Johnson in Somewheresville, USA, is going to all of a sudden do a double take at her computer screen and go, "DALE, GET IN HERE. It says a MOM discovered this weird old trick that is going to make my teeth 10 shades lighter while also putting money in my pocket and infuriating my dentist. And I know I can trust her, because I'm a mom, too! Never mind that I know nothing about this particular mom or if she knows anything about dentistry, or even how to tie her shoes, for that matter. She's a MOM, Dale. A MOM!!! I'M CLICKING THE AD!!!"
Another question I have is: Why is it always a weird old trick? Do people think it's more legit if it's old? and weird? Because I know of some weird old tricks that I wouldn't touch with a ten-foot pole. (Don't come near me with those leeches, please!) Science has come a long way, and if given the option between a "weird old trick" and "modern science," I think I know which one I'll choose.
I'm going to leave you with a trick from a mom in Lyndhurst (wherever the hell that is; are we supposed to know where Lyndhurst is, or is it a generic town name that anyone in an English-speaking country can realte to: "OH, yeah, someone from Lyndhurst, Dale. WE'VE HEARD OF THAT TOWN! I'M CLICKING THE AD!")
So this mom discovered this clever wrinkle therapy that makes botox doctors furious (and are there really such things as "botox doctors"? That's very specific).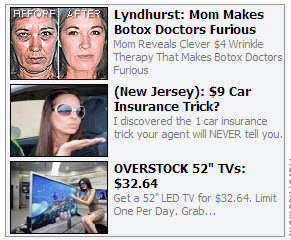 I clicked on the ad to find out what the trick was, and as it turns out, she stopped doing meth.
That is a clever trick!