Archive for April 29, 2008
April 29, 2008
Remember the mystery of the never-empty office toilet paper? I walked by the janitor's cart just now and saw a pile of take-home rolls, as pretty as you please! Oh, sweet relief! They're not throwing away the toilet paper. Finally, for the first time since Tuesday, August 14th, 2007, I can get a good night's sleep!
April 25, 2008
The new soap in the bathroom at work smells like bad piña coladas, like the kind made with malibu rum and a pre-made mix. Incidentally, I've often thought bad piña coladas taste like soap.
Coincidence?
I think so.
April 25, 2008
Ugh, I am so horrible at updating my blog! There was a time when I had free time. That time is past. When I started this blog almost three years ago, it was my only creative outlet, and I needed it to stay sane. The good news is, I'm doing lots of creative things that make me happy, and my sanity no longer depends on this blog. The bad news is, my new creative things are taking up so much time that blogging (and laundry and bill-paying) is now whistling happily away on the back burner. I know there will be a point when I need to come back to it, though, so I'm thankful that it's still here for me.
That said, it's high time for a blentry, and I always find that an easy way to start back after a long hiatus is always a Loving and Hating. So here goes!
I am loving:
Spring! It's always my favorite, and that will never change. On Monday I was suuuper sleepy, and at lunch I walked to a nearby park, spread out my straw beach mat, and fell immediately into a deep sleep. Within seconds I was twitching, and a half hour later I woke up with a start, cheek in a puddle of drool (you're welcome), the blazing sun cooking me like a tender rotisserie chicken. Ohhhh, I will never stop appreciating sunshine and warm weather.
I am hating:
That some jackball scratched my Blubaru and didn't leave a note. My "new" car now has 3 dings, a huge dent, and a scrape. Ahhh, L.A.
Loving:
That I did my taxes early(ish) this year. I'm so proud of myself! I got someone to do them for me, and we itemized! New fun for me. This is in sharp contrast to last year, the year before, and every year before that, when I have waited until the very last possible minute.
Hating:
My short attention span. What gives? I can't seem to sit through a movie or do any one thing for more than an hour. I have this constant frenetic energy while somehow also being perpetually exhausted. Have I always been like this?
Loving:
My current set of roommates. I miss Danielle a lot, but my old friend Lauren moved in, and we found a great guy on Craigslist named Robb, and he's going to be bringing his dog in a couple months. I'll have a furry friend at home that I don't have to take care of! Lucky me!
Also Loving:
My bike! I love riding around to run errands. I also love looking at it, because it is stunningly beautiful.
Also Loving:
The neighborhood I live in. Walking on the long streets with big trees never fails to restore balance for me. I love how if you stand on the sidewalk and look in one direction or the other, the sidewalk stretches like a long, long triangle until it reaches a point and you can't see it anymore. There's something about that view that speaks directly to my soul, and I know that if I ever leave this place, it's an image I'll have forever (and not just because I've photographed it a million times).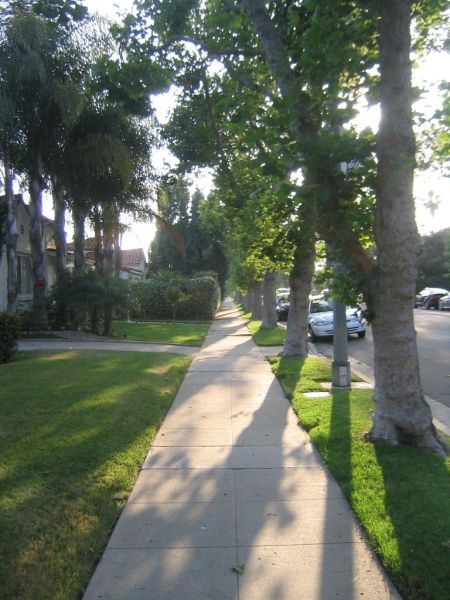 Finally, loving:
Pudding! Oh, I love pudding so much!